Back to category

Steering house JRP1315 TRW
---
Free 30 days

exchanges

Quality

car parts

EU Delivery

: 2-3 days

Ask our experts

for advice
Fit guarantee, show parts suitable for your vehicle.
Please your vehicle
Specifications

---

| | |
| --- | --- |
| Length [mm] | 1120 |
| Supplementary Article/Info 2 | Without sensor |
| Operating Mode | Hydraulic |
| Manufacturer Restriction | JTEKT |
| Stroke [mm] | 135 |
| Mounting bores distance [mm] | 260 |
| Observe technical data | |
| Service exchange part | |
| Input Shaft Diameter [mm] | 18,5 |
| Axle Joint Thread Size | M14x1,5 |
| Input shaft height [mm] | 72 |
| Guarantee | 2 years |
| Left / right steering | For left-hand drive vehicles |

Applicability

PEUGEOT

| | |
| --- | --- |
| | 308 CC |
| | 308 CC (4B_) | 2009.02-2014.12 2.0 HDi - 1997ccm, 140pk, 103kw - RHF (DW10BTED4) |
| | 308 CC (4B_) | 2009.02-2014.12 2.0 HDi - 1997ccm, 163pk, 120kw - RHH (DW10CTED4) |
| | 308 CC (4B_) | 2009.02-2014.12 2.0 HDi - 1997ccm, 136pk, 100kw - RHR (DW10BTED4) |

Manufacturer

TRW aftermarket is one of the largest suppliers of original auto parts and parts of OE quality. TRW is a partner for many vehicle brands for the first time on vehicles. TRW has become known by producing components of the braking system, steering gear and high quality chassis.

TRW invests in its own production lines, making the largest part of the products within the EU. Because TRW stands for quality, the products are tested not only in-house, but also independent external parties are enabled to ensure the quality of the TRW products.
TRW products are characterized by the following points:

- Originally delivered to more than 250 car models
- 40 major car manufacturers underline TRW quality at first assembly
- Very high quality, similar to original

At the moment we have the following TRW products in our range:

- Shock absorbers & springs
- Brake pads, Brake shoes & calipers
- Brake pads
- Steering bullets & steering rods
- Fuseekogels
- The dragonmen
- Support arm rubbers
- Brake and coupling cylinders
- pressure bearings
- Fabric covers
- Brake hose


Delivery time

Expected delivery date:

07-12-2021

This item is subject to a deposit-return fee. After returning the old part, the deposit-return fee will be fully refunded.

How does this work?
You return the old part – the part you have disassembled from your car - in the original packaging of the received new part. This ensures that the manufacturer has a clear and immediate understanding which product number it concerns. After the ability to recycle the part (see below for more information) has been checked and approved, the deposit-return fee will be refunded to the same bank account number. The bank account number from which the initial payment had been made.

Which issues do I need to consider?
The manufacturer will evaluate the part if it is applicable to recycling. Is the part broken or otherwise unrepairably damaged, by say a right angle grinder? The manufacturer will not be able to re-use the part and will reject reimbursement. In this case you can't claim reclamation of the paid deposit-return fee. Naturally, Winparts will not reimburse the fee to you if the manufacturer rejects the old part. Processing time can take up to 2 weeks.

I return the used part, will I receive a new one?
Yes - the housing is often re-used, the part itself is completely new. You'll have an improved original part with full warranty of the manufacturer. Of course you can count on it that the part meets all kind of rigorous quality checks.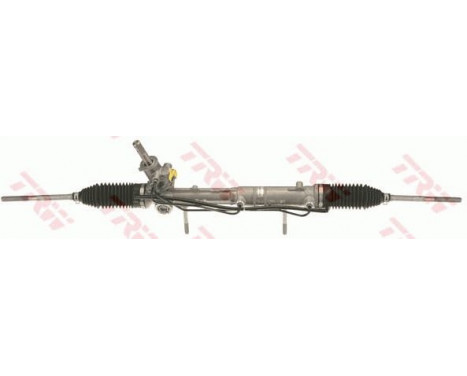 Steering house JRP1315 TRW
€ 558,92