Back to category

Turtle Wax Black Box
Product number: 0306720
Manufacturer number: 1830910
EAN: 5010322783333
---
Free 30 days

exchanges

Quality

car parts

EU Delivery

: 2-3 days

Ask our experts

for advice
Specifications

Turtle Wax Black Box

Turtle Wax has developed the Black Box. This is a unique collection of complementary products, specially produced to ensure that your car gets a deep and black shine. The Black Box contains the following high-quality products

Content:

Black Pre-Wax Cleaner A specially formulated pre-wax treatment provider. This cleans the paint thoroughly and removes light scratches. The black formula restores the color and the wax also ensures better light reflection.
Black Carnauba Wax A deep black blend of Carnauba and pigment has been added to achieve a high gloss, the highly advanced polymers provide an extra deep shine. UV inhibitors maximize lacquer reflectivity and the black pigmented wax provides protection and makes small imperfections in the lacquer virtually invisible. Keep out of the reach of children.
Black Spray Detailer A unique black tinted spray facilitates the removal of the Pre Wax Cleaner and the Black Black Carnabau Wax. This prevents local cleaning stains and gives extra shine Black Spray Detailer is the final step to the ultimate and deep black high gloss.

Instructions:

Apply the Black Pre Wax Cleaner with a clean applicator, rub it in with a circular motion to clean the surface deeply. Let it dry until a slight haze appears.
Spray the Black Spray Detailer lightly on a microfiber cloth or on the surface and polish the Black Pre Wax Cleaner with a circular motion.
Apply the Black Carnauba Wax to small areas of the car. Use the sponge applicator for this and apply it with a circular motion. Let it dry until a slight haze appears.
Spray the Black Spray Detailer lightly on a microfiber cloth or on the waxed surface. Then rub the entire waxed surface with a circular motion until a high gloss is produced.

---

| | |
| --- | --- |
| Guarantee | 2 years |
| Content | Kit |
| Including | Black spray detailer 500 ml |

Manufacturer

Turtle Wax was founded in 1950 and was founded by American Ben Hirch. The name Turtle Wax originated because Ben came across Turtle Creek during a business trip. He put a link between the hard protection of the tortoise scale and its products. Thus, the name of his first and original product, Hard Shell, originated, and he named his company Turtle Wax. Turtle Wax has a reputation of over 95% worldwide and that is unprecedented. With a distribution in more than 60 countries, Turtle Wax is the best-distributed car brand. Worldwide, Turtle Wax is still seen by many as the best brand for car care.

Delivery time

Expected delivery date:

Tomorrow

Reviews

8

It is easy to apply and gives a deep shine. BUT do wear gloves because otherwise you will get black hands. I have only used 1X and have to see if it stays on for a long time.

This kit really brings back the black if your car goes a bit haywire! A bit of manual work, but you'll see it right away!

Reasonably gives the intended result what is specified

Still fine. Dutch explanation is better for some people.

I am extremely satisfied all the circles are gone and I think it is as good as new

Very good, exactly what you hope to get and it works great!

an easy to apply product, with a very nice result!

Excellent delivery and product works well. Equally hard work with brushing but then it seems like the car comes out of the showroom.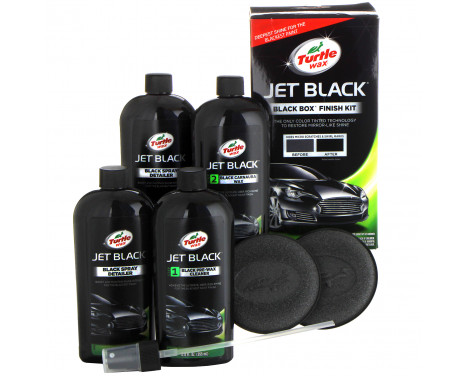 Turtle Wax Black Box
€ 29,95